Dealspotr is changing the way people find and share deals online. Through crowdsourcing coupons and promo codes, Dealspotr has created the largest and most accurate real-time database of deals available.
I am always interested in finding the best online deals and sharing them with my readers so I decided to checkout Dealspotr.
What Sets Dealspotr Apart From Other Deal Sites?
Dealspotr is similar to other deal sites like Slickdeals and FatWallet except you earn points towards Amazon gift cards just for sharing and validating deals. Best of all, Dealspotr deals and coupons have a higher accuracy rate than Coupons.com, Groupon, and Retailmenot. There  is nothing more frustrating than searching for a coupon or promo code and finding out that it's not valid at checkout.  Dealspotr deals are constantly being added and validated by it's 30,000 members to ensure deals are complete and accurate.  On the bottom of each deal is a toolbar that shows the accuracy of the deal or promo code as verified by members. Knowing ahead of time which deals are still active and whether the promo code works as advertised at checkout is a timesaver. Brilliant!
Customize Your Own Personal Feed of Deals
One of the features I like about Dealspotr is that I can select the deals and promo codes for stores or topics that interest me. You can change the stores and interests you follow to keep up with the latest real-time deals on only the stores and brands that you are shopping for.  I'm a fairly busy guy and I don't like wasting my time so this feature lets me quickly locate the deals I'm interested in and feel confident that the promo code is going to work at checkout.
Earn Gift Cards for Actively Sharing & Validating Deals
You can earn points towards gift cards for :
Posting or validating a site-wide promo code

Posting or validating a sale or freebie deal

Leaving a helpful comment on a deal

Referring friends and family who join Dealspotr
I have been a member for only four days and I've already earned a $30 Amazon gift card.  In full disclosure, I have an influencer account since I run my own blog The Frugal Toad and was able to earn 25,000 points for completing a simple checklist of tasks. The point is that you will have the opportunity to earn points daily for completing tasks that you can redeem for an e-gift card.
How Do I get Started?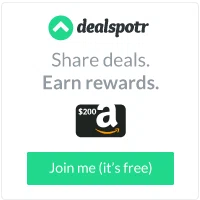 STEP 1: CREATE AN ACCOUNT AND COMPLETE NEW USER CHECKLIST.
You'll want to create an account to take full advantage of all that Dealspotr has to offer. SIGNUP using my referral code THEFRUGALTOAD and earn a $5 gift card just for completing the new user checklist (piece of cake) and posting your first deal.
STEP 2: CUSTOMIZE YOUR FEED BY FOLLOWING STORES AND INTERESTS.
The next thing you'll want to do is setup your personal feed. Just select your favorite stores and interests to receive updated deals in real-time. How awesome is that?
STEP 3: BE SOCIAL, LIKE DEALS, FOLLOW PEOPLE, SEND YOUR APPRECIATION IN COMMENTS.
What makes Dealspotr different is that it's a social network of people who love finding and sharing deals.  See a deal you like? Give it a thumbs up and leave a comment! You can even follow people to receive the latest deals they have found.
STEP 4: REFER FRIENDS TO EARN EVEN MORE.
You can earn a commission when someone uses your personal Dealspotr referral code to join Dealspotr plus a percentage of the points they earn over the lifetime of their accounts. The more you promote your referrals the more points you can earn.
STEP 5: APPLY TO BECOME AN INFLUENCER.
Have a following on social media or run your own blog? Apply to become an influencer like I did, and earn special perks like links and added visibility on Dealspotr in addition to increasing your earning potential.
Final Thoughts
I have to admit that I was skeptical at first about Dealspotr, but after joining and thoroughly checking out the site, I am convinced that Dealspotr makes good on it's promise!
" a tool that just works, that is driven by real people, a deal discovery engine that gets you the best deal on anything, right now, in real-time. " Dealspotr
Dealspotr may not be for everyone, but if you are serious about saving money and are interested in earning rewards and income for sharing deals,  this just might be the only social coupon site you will ever need.
Dealspotr is the most accurate coupon site that pays you to save. I'm@thefrugaltoad on Dealspotr, use my link to join today and earn 5,000 bonus points."